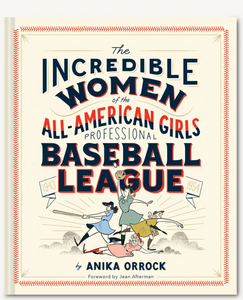 Past Present Future Ardmore
The Incredible Women of the All-American Girls Professional Baseball League
Regular price
$19.95
$0.00
Unit price
per
This book chronicles the history of the All-American Girls Professional Baseball League and the stories of the first women to play professional baseball in a league of their own. 

"In 1941, the world was at war, and with American men fighting overseas, the much-needed pastime of professional baseball was in danger of extinction—until women stepped up to the plate."
In this heartwarming illustrated history, the League's story is told by the ones who know it best: the players. Author Anika Orrock collects a variety of funny, charming, wince-worthy, and powerful vignettes told by the players themselves about their time playing the American pastime.

Features stories of grit and perseverance against all odds, told by the players themselves
Filled with player statistics, historical beats, headlines, and more; and fully illustrated in Anika's vibrant style
A visually engaging, readable women-led history book
Written in an approachable manner and beautifully illustrated, The Incredible Women of the All-American Girls Professional Baseball League is a one-of-a-kind story told through the women's own voices and their own perspectives.

This book ultimately proves 
---